Episodes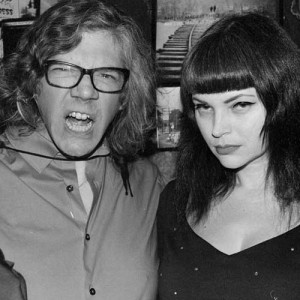 Wednesday Oct 30, 2019
Wednesday Oct 30, 2019
The Alternative Cinema Podcast 2019 Halloween Episode!
Episode 59 - October 30, 2019
Catch up with the original Alternative Cinema Podcast crew in this special Halloween reunion episode, in which Michael Raso, John Fedele, Erin Hellfire (née Russ), William Hellfire and guest Mark Dalzell chit-chat about some of their new projects, long-running favorite spooky subjects and celebrate some of the momentous events that have transpired over the past 7 years!
Killer Breakfast Cereals!
Guest Mark Dalzell eats A LOT of cereal. So much so, that he's devoted an Instagram account - @YourCerealKiller – to showcasing boxes of ltd edition, monster-themed and just unusual breakfast cereals. 
Erin and William got Married!
Our favorite spooky couple wed on All Hallows' Eve 2018 at 
Station 1
, the groovy books, vinyl record and vintage shop in Pomption Lakes, NJ. From their horror-themed attire to their gleefully gruesome vows, the ceremony was everything a monster kid could dream of.
Erin and William Join the Satanic Temple
How do you top a perfectly spooky wedding ceremony? You join the Satanic Temple!  Erin and Bill enlighten us on branding and philosophies of the new Satanism.
William Hellfire and the Cannibal Cop Gilberto Valle  
Thought the Cannibal Cop was just a rumor?  Nope, he's a real guy - Gilberto Valle – and he's got an unusual connection with Bill…
William Hellfire and Ross Snyder examine the original "truth is stranger than fiction" story of W.A.V.E. Productions through their IndieGoGo funded documentary campaign. Headed by Gary Whitson, W.A.V.E. Productions amassed over 300 "custom" and "made to order" shot-on-video films since its inception in 1987.  Lt's an astonishingly bizarre story tailor-made for fans of cult cinema.
Meet the AC Podcast Reunion Crew
Michael Raso, Host – Michael is a professional producer and cinematographer with a passion for still and motion picture film formats, and a love of "B" and Horror movie genres.
John Fedele, Co-Host – Filmmaker and photographer John is taking time off from his career to focus on his new role as full-time dad.   
William Hellfire, Co-Host – Filmmaker and producer William Hellfire is the force behind cult film label Factory 2000, and more recent films UpsideDown Cross and Mail Order Murder: The Story of W.A.V.E.